My
DT
sister's at
McMahon Five Designs
are the most amazing group of women! I have been feeling really down since learning the news of my very dearest friend,
Elise
was recently diagnosed with Breast Cancer. Many of us have followed
Jacque's
journey this year with Breast Cancer. We are all affected by this disease in one form or another and we can all do one thing to protect ourselves. SELF EXAMS! It's quick and simple and can save your life.
The M5D girls rallied together this past week to not only cheer up my spirits but to help bring
Awareness
to such an important issue that affects us all.
To put our efforts in action, we came up with this
FREE Breast Cancer Bear Digital Stamp
BUT

there is one stipulation before you download him.
You have to promise to perform a self exam!

It's on God's Honor System and we know you will
do this for Yourself ...and... your Family!
As an added BONUS, we also came up with a set of 7 Breast Cancer Awareness Images to buy!
100% of PROFITS will go to
Breast Cancer Research Foundation.

Breast Cancer Bear Set
Here is the darling card I made with my breast cancer awareness bear digi. I used my Spellbinder die's for the fun frame. I embossed the sentiment which reads "A hug is a great gift one size fits all. It can be given for any occasion and it's easy to exchange." Decorative paper is by K&Co. I embellished with pearls, Swarvorski crystals, Sva pearls, flowers by Prima and stick pins.

We'd love it if you would help us Spread The Word by displaying one of our blinkies or badges on your blog.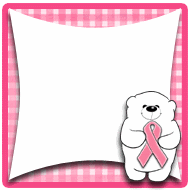 And for the
blinkies
that won't play nice with each other, we have this non-
blinkie
badge. :)